INSURANCE INDUSTRY
Insurance Data Analytics & Telematics Solutions
Auto insurance pricing is complex. Insurance companies are continually challenged to provide competitive rates that balance risk and profit potential. Insurers cannot be left to guess about risk. They need comprehensive reporting and real-time data.
Modern telematics solutions have allowed the insurance industry to streamline the pricing process. However, next-generation AI technology will take data to higher levels of accuracy, enabling insurers to aggressively price insurance policies without compromising on risk.
The Benefits of Insurance Telematics Solutions
Telematics solutions provide the insurance industry with detailed customer insights that improve pricing accuracy. This technology has allowed insurers to base premiums on driving behavior rather than proxies for them such as age, gender, or credit history.
The ability to provide competitive telematics program pricing has improved profitability and customer retention rates, particularly among safe drivers who frequently benefit from significant premium discounts.
Regardless of the type of telematics solution, insurers can track policyholders' driving behavior in real-time. The benefits of this technology includes:
Easy-to-deploy and actionable insights to reduce risk

Help your policyholders improve as drivers

Offer insurance discounts for good drivers

Reducing the need for manual tasks
Accurate data provisioning
Telematics-based insurance coverage depends on data accuracy and the ability to interpret telematics device data. Weather, atmospheric conditions, road conditions, and other forms of interference that may affect data quality can result in substantial revenue loss for insurance companies.
Using AI to Improve Insurance Data Analytics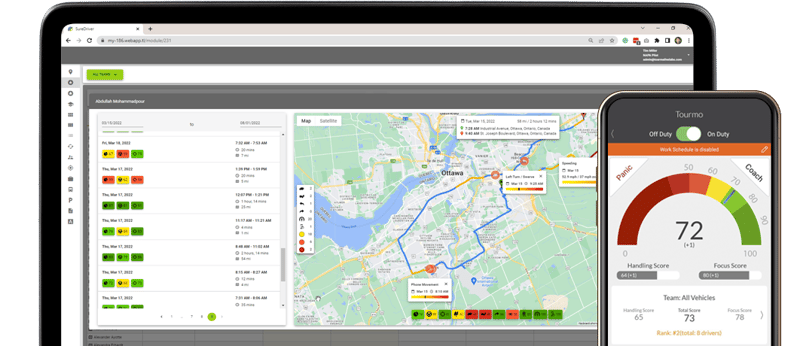 Telematics solutions make data collecting easier than ever before, allowing you to better manage and analyze data from any device. So, what sets AI-powered solutions apart from the competition?
The latest AI technology provides greater data transparency and the ability to unbiasedly assess driver behavior by evaluating all driving behaviors, not just individual events. Further, AI has made complex analyses of telematics data possible, independent of factors outside of a driver's control, like weather, traffic, or topography.
Before the latest advancements in technology, comprehensive behavior scoring based on advanced analytics was not practical. In addition to the clarity provided by the standard AI approach, Tourmo's AI-powered technology offers: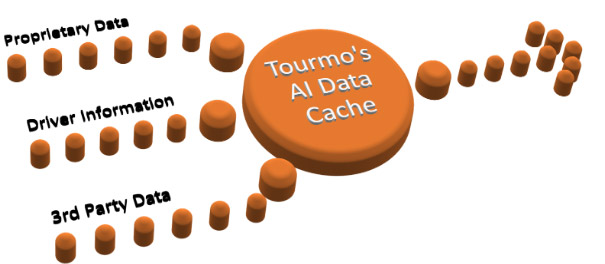 Tourmo's AI offers proprietary data collection but also compiles information from external sources to provide you with the advanced analytics required to reduce risk and offer the most competitive prices to clients. This includes:
Tourmo's AI provides analytic links between driving behavior and tracking technologies to paint a comprehensive picture of driving behavior.
3rd Party Integration
Our platform allows users to incorporate data from other apps into its existing dataset, providing the AI with more information to generate driver feedback.
If you're interested in learning more about how Tourmo's AI-powered platform can dramatically boost your mobile operations' productivity, safety, sustainability, and satisfaction of customers and employees, contact us today!
Visualization Options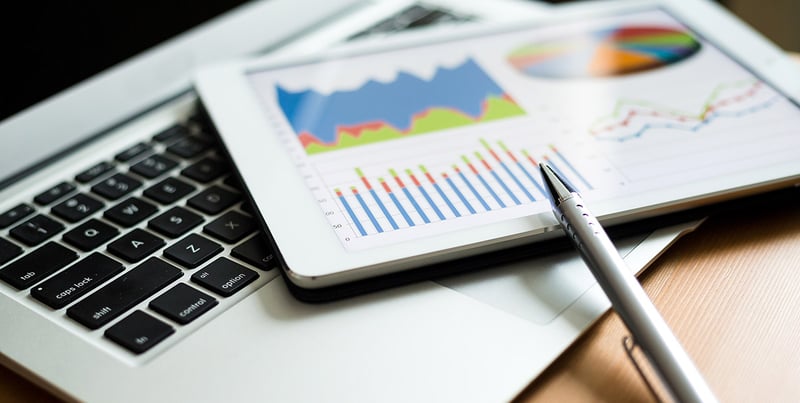 How data is collected is important, but how it is contextualized and normalized is crucial to understanding it. Tourmo's AI platform can provide the insurance industry with a wide range of visual options to give you the highly-accurate data you need.
Tourmo combines state-of-the-art driver behavior analytics with actual claims data to uncover answers that empower insurers to reduce costs and retain users - right from a mobile device.
The benefits of our insurance telematics solutions include:
Integrate driving behavior and tracking technology in minutes
Patented technology around phone movement and low battery consumption
Benefit from millions of miles collected
Ready to launch on iOS® and Android™
Focus on YOUR VISION – not on tech
Tourmo AI — We Can Bring Value to Your Company
Tourmo's insurance data analytics solutions enable insurers to decrease risks and offer competitive pricing to policyholders. We can use your company's telematics systems and data to turn your insurance environment into a highly effective analytical institution.
Tourmo's AI-powered platform collects data from various sources, such as smartphones, aftermarket hardware, or OEM telematics solutions. We have off-the-shelf iOS and Android apps and an SDK to build our technology into an insurance provider's existing app.
Contact us today if you'd like to learn more about Tourmo's AI-powered insurance data analytics solutions!
Learn More and Get Started with Tourmo
and Have It Transform Your Insurance Ecosystem of People, Partners, and Assets into a High-Velocity, Insight-Optimized, AI-Powered Performance Enterprise.