Know you're executing to plan


Adapt automatically as needed


Update your team and customers in real time


Ensure consistent compliance


Manage by exception
How is a lack of visibility into your mobile workforce management impacting your day to day?

Customers dissatisfied with lack of predictability in the schedule.


Inability to make process changes without significant disruption and high cost.


Reduced visibility into mobile workforce's health, adherence to field processes, or validity of licenses, records, and certifications.


You need to monitor and verify your mobile workforce operations, improve efficiency and productivity, and get more done with the same resources.
What can you accomplish with total visibility?
During the proof of concept, it became clear how advanced Tourmo's platform and insights were, revolutionizing the way we tackled operations management. We found in Tourmo a trusted advisor and technology partner who is helping us transform our company. Their ability to quickly make a significant impact on our bottom line was truly impressive.
Vice President, North American Operations, A Global – Top 5 – Oil & Gas Company

Mobile workforce operations workflows make efficiency possible.
Learn how Tourmo Mobile Workforce Automation workflows can help you increase workforce utilization, reduce manual overhead, and boost customer satisfaction.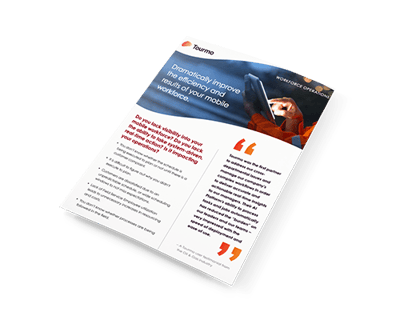 Monitor and verify your workforce operations with our AI-driven mobile workforce solutions.
Our mobile workforce automation workflow solutions give you total visibility. Automate your plan, know whether you're on schedule, and automatically make adjustments as needed. Keep your team and customers constantly updated to ensure compliance and satisfaction.

Worker Readiness
We'll provide the tools to make sure your workforce, vehicles, and equipment are prepared and ready for their jobs.
Journey Management (trip submission and approvals)

Worker Qualification Verification

Worker Fit-for-Duty Verification

Work Tracking
Our AI-powered mobile workforce solutions will monitor whether work is being executed to plan. Our platform will notify your customers when there is a change and take action through automated workflows. Identify and manage issues like delays at client sites, unplanned stops, route deviations, and out-of-sequence deliveries.
Service Visit Monitoring & Verification
Automated Progress Updates
Real-Time ETA
Activity/Inactivity Monitoring

Task Automation
We provide highly configurable and mobile workforce automation task management. Transform your unique business processes and forms to manage every step automatically—with consistent high quality, efficiency, compliance, and safety. You'll deliver improved customer interactions, business results, and auditability.
On-Site Process Management

Field Service Issue Reporting

Custom Process Automation

Electronic Forms

Workflow Management
AI-powered business process management that delivers automation, task management, insights, and transparency across organizations to help you uncover value from your data and integrate it into your business' unique workflows.
Fully integrated business intelligence suite

Workflow Automation

Measure & Track KPIs

Alerting & Reporting
We'll work within your existing system.
Our modern open architecture platform is designed to easily integrate with your existing systems and hardware. Our approach allows you to get the most out of your existing investments without requiring the cost, disruption, and delay of having to make more changes.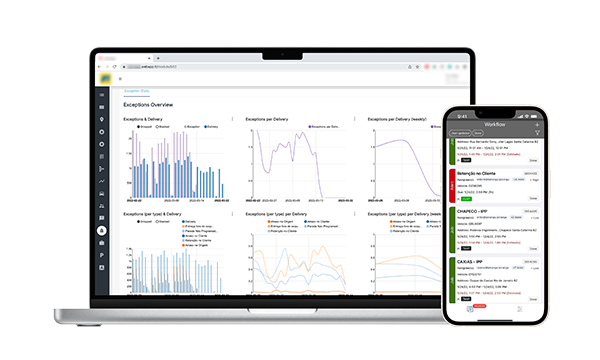 Ready to automate your mobility workflows?
Schedule a Live Demo
"It is Tourmo's unique device-agnostic approach that has allowed us to embed their amazing technology inside our existing Application and easily deploy it to our over 1,000 mobile workers and vehicles across France. Tourmo exceeded our expectations in assisting us in integrating their best-in-class SDK into our phone App. They accelerated the project by being hands-on and assisting us in upgrading some outdated portions of our app (to assure that the SDK would function properly). We value and appreciate their partnering with us as they help us reach our performance and safety goals across our network of 3rd-party partners."
Logistics Performance Director "Tourmo was the first vendor/partner which could address our cross-departmental issues and handle our company's complex and unique workflows and deliver accurate and actionable real-time insights to our managers. Their AI Platform's ability to process tasks and jobs automatically has reduced the "burden" on our leaders and our teams. We have been impressed with the speed of deployment and ease of use."
Vice President of Logistics
A Top 3 Global Oil & Gas Company, North America