How to Improve Truck Fleet Fuel Economy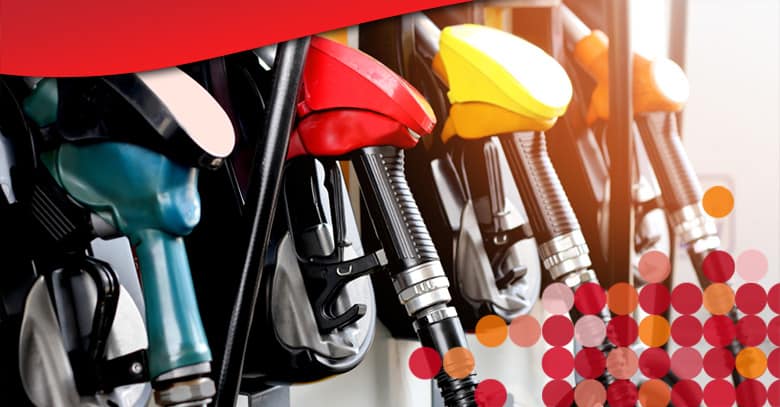 The implications of escalating and volatile fuel costs are a significant concern for most fleet operators. Improving truck fleet fuel economy and minimizing fuel consumption remain top priorities in the current market.
When gasoline prices are high, relying on effective ways to limit fuel consumption will be even more essential. This blog will touch on the estimated cost of fuel consumption across an entire fleet. Further, we'll discuss how the type of vehicles within your fleet, age, maintenance, and driver behavior will impact fuel economy.
Lastly, we'll offer tips and best practices to improve your fleet fuel economy before introducing the advantages of using Tourmo's AI-driven platform to reduce fuel consumption and eliminate fuel theft.
The Estimated Costs of Fuel Consumption
Fleet costs are classified as operating (or running) costs and fixed costs (or standing costs). Depreciation can be the most expensive aspect of fleet ownership in terms of ownership, followed closely by fuel. When it comes to operating costs, fuel spend can account for over 60% of a company's operating budget.
Because fuel prices are high, your company will require a focused strategy to control overall costs through vehicle fuel efficiency, driver behavior, and purchasing fuel from low-cost providers.
Factors That Impact Truck Fleet Fuel Economy
Multiple strategies can be used by drivers, fleet managers, regional management, and corporate decision-makers to reduce fuel consumption and improve their bottom line. The following are the major factors that influence truck fleet fuel economy:
Aggressive Driving Behavior & Excessive Idling
Simple changes in driving behaviors can dramatically improve fleet efficiency, conserve fuel, save money, and reduce emissions. These factors significantly impact the truck fleet's fuel economy and hold significant savings potential.
Monitoring your truck fleet for signs of aggressive driving and excessive idling is the first step in reducing fuel consumption. A simple reduction in truck driving speed from 75 mph to 65 mph can result in an average savings or fuel efficiency improvement of 27%. Eliminating excessive idling can save another 19% in fuel costs.
Less Than Ideal Vehicle Inventory
Fleet rightsizing is a practice that will assist fleet managers in developing and maintaining optimal vehicle inventories. Fleet inventory may be less than ideal for many companies, and it will likely expand over time to include vehicles that are rarely used or no longer suitable for current operations.
With accurate fleet sizing, composition assessments, and optimized vehicle use fleets can conserve fuel and cut emissions. Additionally, vehicle selection plays a different role in lowering fuel costs, especially when considering vehicle age.
As you replenish your truck inventory with newer assets, replacement assets will be more fuel-efficient, acting as a natural hedge against rising fuel prices. Beyond fleet rightsizing, it's essential to use productive fleet combinations, do more with less, and ensure fleet optimization through increased reporting on productivity.
Vehicle Parts and Equipment
Fleet managers and drivers can save fuel and increase operational efficiency by driving efficiently and equipping their vehicles with fuel-saving equipment.
Aerodynamic features are standard on many trucks. After the initial cost of these options, it will result in ongoing fuel savings. Choosing lighter-weight equipment can further reduce truck weight by thousands of pounds; for instance, removing 2,500 pounds from a heavy truck could save hundreds of gallons of fuel per year.
Poor Vehicle Maintenance
Higher component wear and overdue maintenance will result in lower fleet fuel economy. A comprehensive vehicle maintenance strategy will support fleet managers and drivers to help reduce costs. Here are a few factors that can affect fuel economy:
Proper Tire Inflation — Truck tires that are inflated ten psi below the recommended air pressure levels can reduce truck fuel economy

by 0.5 to 1%

.
Recommended Motor Oil — Using the manufacturer's recommended grade of motor oil in an engine can boost fuel economy by 1%–2%.
Engine Tune-ups — Tuning or repairing a neglected vehicle (especially ones that fail emissions tests) can increase fuel economy by 4%.
Best Practices to Improve Truck Fleet Fuel Economy
The excellent news is that there are several ways to improve the fuel economy of a truck fleet. The main challenge will be changing overall driving behavior and the fleet management practices of your company.
Getting the most out of a fuel improvement program will require embracing change in company culture and management practices in the long run. If you're willing to change, there are several ways to effectively reduce fuel mileage and usage.
The most successful fuel reduction programs focus on strategic areas to cut fuel costs. The most effective programs will focus on areas such as reducing mileage, modifying driver behavior, and monitoring fuel spend.
Tourmo's AI-Powered Platform for Fuel Efficiency
Using the right technology can dramatically improve your company's existing fuel cost mitigation strategy.
Some of the top benefits of using Tourmo's AI-driven platform to improve your truck fleet's fuel efficiency and reporting include:
Up to 20% improvement in fuel efficiency
Eliminate potential fuel theft
Reduction in manual efforts to reconcile fuel transaction data
Up to 40% reduction in effort on environmental reporting
Substantial reduction in fuel cost
Tourmo's modern open-architecture platform can integrate seamlessly with your existing systems and hardware. Our approach will enable you to get the most out of your existing investments while avoiding the cost, disruption, and delay associated with additional changes.
Tourmo AI Solutions — Conserve Fuel With Total Visibility
Tourmo's AI platform provides everything you need to monitor and verify your workforce operations, improve efficiency and productivity, and accomplish more with the same resources. It will enable you to track and measure your fleet's fuel efficiency, performance, and environmental impact with the data you receive.
With Automated Fuel & CO2 workflows, drivers will learn from the system to use less fuel, and you can automatically reconcile fuel transactions while identifying potential fuel theft. Additionally, our gamification and rewards system motivates and encourages driver participation.
To learn more about how the Tourmo AI platform can help improve fuel efficiency, eliminate fuel theft, and deliver a substantial reduction in fuel cost,

Contact us

today!
---
Share this article:



---

Matt Braun
Matt Braun leads the Solutions Consulting team at Tourmo. He helps Tourmo customers better understand their challenges and uncover creative, efficient solutions to improve their operations. He guides them through the benefits provided by mobility workflow automation, AI-powered tools and reports, and the value of data science. Matt's focus on clear, actionable, and effective information is foundational to all prescribed solutions. Matt came to Tourmo after 15 years as Sr. Director of Performance Improvement at First Student –– an organization operating a fleet of more than 40,000 vehicles. He holds a Bachelor of Business Administrations from the University of Cincinnati and a Masters of Business Administration from Thomas More College. Matt and his wife live in the Cincinnati area where Matt coaches most of the sports of their 2 sons and daughter.