CONSTRUCTION AND BUILDING MATERIALS
Fleet Management Software for Construction & Building Materials
Our AI-Powered Mobility Behavior and Tracking Platform for Construction & Building Materials Can Handle the Toughest Challenges
We know how critical it is for construction and building materials companies to manage their fleets with easy-to-understand tools that deliver complete visibility and control over real-time asset location, driver behavior, and workflow data.
Our AI-Powered mobility behavior and tracking platform can handle it all, whether you're managing numerous fleets, resources, or job sites. Tourmo's SaaS solutions provide instant connectivity and transparency throughout your fleet operations.
Stay informed and updated with the power of automation and AI-predictive data that will substantially improve fleet communications, maintenance, efficiency, and driver behavior.
The Best Enterprise Mobility Management Solutions Start With a Device-Agnostic Approach.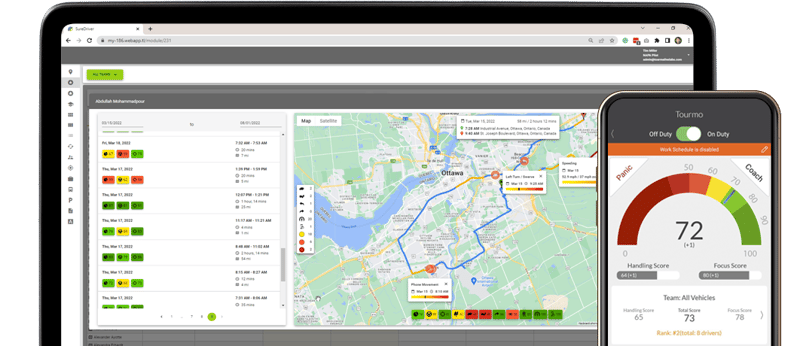 Tourmo's mobility platform can manage, secure, and collect normalized, contextualized data from the following devices:
Smartphones
Tablets
Cameras
OBD-II devices
OEM vehicle systems
We supply mobility and transportation organizations with advanced fleet management for heavy equipment technology that allows for integrated mobility data management from any device.
Get Complete and Accurate Insight into All Mobility Data Across Your Enterprise in a Single View.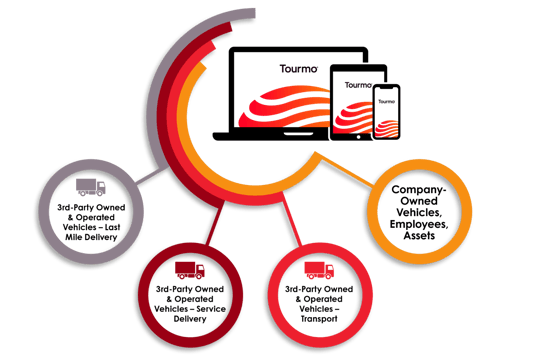 Tourmo AI-Powered Mobility Platform
From a single platform that generates actionable insights, Tourmo's AI-powered SaaS solutions provide visibility across all company-owned fleets, personnel, third-party vehicles, and fulfillers from multiple lines of business and regions.
Tourmo can automate the entire management of your mobile operations. To learn more about how our platform's AI-powered insights and automated tasks can help your business reduce costs, increase productivity, and outperform the competition, contact us today!

Your Toughest Challenges:
Reliability and Unknown Costs

The success of fleet management for heavy equipment depends on the reliability and dependability of its workforce and equipment. Many companies are forced into reactionary decision-making when unknown costs and other inefficiencies occur. Tourmo makes it possible to get in-depth answers to all the unknowns in fleet operations.

Advanced AI-Powered Solutions:
From Tourmo

Tourmo's AI-powered mobility platform will alleviate all stakeholders' burdens of repetitive manual processes, guesswork, and reactionary decision-making. It will improve your company's visibility into heavy-duty fleet operations, decrease costs, and mitigate risks.
Construction and Heavy Equipment Features:
Device-agnostic solutions that leverage existing data from multiple devices
Deployment of best solutions for each line of business or region
Easy to deploy and easy to start up
Improve driver behavior with actionable performance and driver scorecards
Mitigate risks with safer driving
Efficient workflows for repetitive processes
Real-time monitoring of job progress
Gain critical proof-of-service and compliance data
Maintenance prevention
24/7 location awareness and asset management
Increase emergency response
Auditable processes
What Heavy-Duty Mobility Looks Like.
Tourmo's AI-Powered Mobility Platform.

---
Scoring and Stats Dashboard:
The analytics dashboard will allow you to dive further into the advanced score data calculated on the mobile app.
---
Driver View and Routes:
View your trip history and on-duty and off-duty status. You will improve efficiency, dispatch services, and customer satisfaction by using precise route mapping and locations.
---
Mapping and Fleet View:
Track all driver locations on a map and their on-duty and off-duty statuses throughout the day.
---
Workflow & Task Management View:
This allows an organization to perform and monitor a process of AI-driven, automated, and defined tasks to boost productivity, cut costs, improve agility, and optimize information flows.
---
Video View:
The Tourmo AI-powered platform collects recordings based on events of importance for your organization. Video clips are made available within our platform by the journey, the driver, and the event.
Partner with Tourmo — We Can Make a Difference in Your Company
The Tourmo AI-powered platform has more than 600,000 users in 151 countries. Our technology isn't just cutting-edge, it's patented in the USA to make it a solution like no other, utilizing AI and Machine Learning to make better driving behavior analysis and decisions virtually automatic.
Contact us today to learn more about how Tourmo can add value and cover gaps in your current fleet management solution.
Learn More and Get Started with Tourmo
and Have It Transform Your Construction and Heavy Equipment Ecosystem of People, Partners, and Assets into a High-Velocity, Insight-Optimized, AI-Powered Performance Enterprise.