PASSENGER TRANSPORT INDUSTRY
Bus & Public Transport Fleet Management System
At Tourmo, We Know That Protecting Your Passengers, Drivers, the Community, and Assets is an Absolute Requirement for Your Business.
Tourmo's AI-driven platform provides the visibility to run your passenger transport fleets as efficiently as possible while reducing risk and costs through increasing safety, compliance, and revenue. Tourmo ensures that passengers, drivers, and assets receive the full amount of mobility attention they deserve.
Passenger drivers can access or benefit from real-time feedback from Tourmo to drive more safely and effectively through:
Powerful bus-tracking tools and dashboards
Identification and avoidance of high-risk, challenging, and problem-prone routes
Positive or corrective driving behavior feedback
Training tools and actionable insights that can automatically coach your drivers and provide corrective guidance in real-time
Alerts and in-app messaging when risky driving behavior and low trip scores occur
Tourmo's AI-Powered Platform Will Revolutionize Your Transportation Company and Enable New Levels of Operational Efficiency.
Demanding schedules and multitudes of commitments leave little to no room for error. In a competitive marketplace with extremely tight budgets, there's an ongoing need to identify, efficiently communicate, and eliminate waste as soon as possible. Variable costs require continuous reporting and monitoring to drive improvement. With Tourmo, you can track your vehicles and analyze performance to improve fleet utilization and operational efficiencies with:
AI-powered predictive maintenance notifications that reduce wear and tear, track service-time requirements, and monitor the health of your valuable assets will increase asset utilization and reliability
Powerful features that will help you manage high costs and keep them under control by eliminating fuel-wasting driving habits and reducing the frequency of accidents
Video telematics and map-based event history evidence can refute false claims and protect your well-deserved business reputation
The Best Enterprise Mobility Management Solutions
Start With a Device-Agnostic Approach.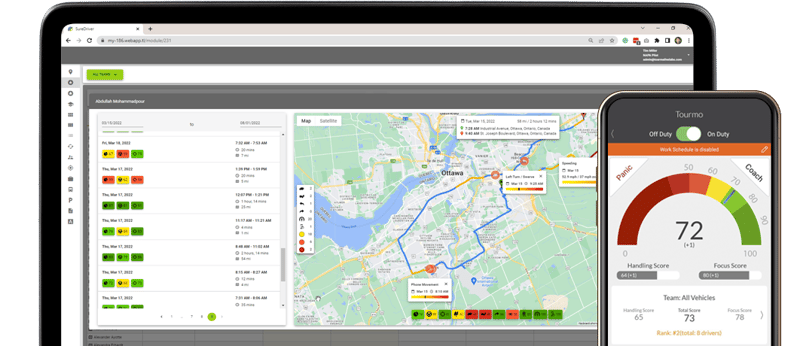 Tourmo's mobility platform can manage, secure, and collect normalized, contextualized data from the following devices:
Smartphones
Tablets
Cameras
OBD-II devices
OEM vehicle systems
We supply mobility and transportation organizations with an advanced bus fleet management system that allows for integrated mobility data management from any device.
Get Complete and Accurate Insight into All Mobility Data
Across Your Enterprise in a Single View.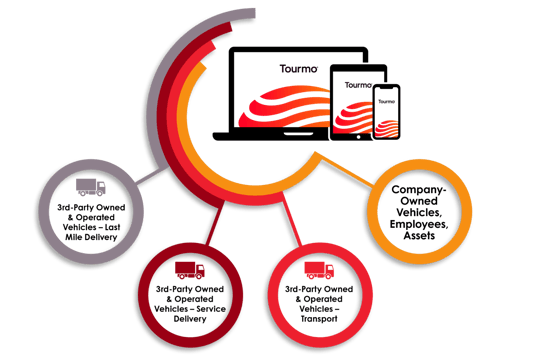 Tourmo's AI-Powered Mobility Platform
Tourmo's Platform provides a single view with actionable insights across all company-owned fleets, employees, 3rd-party vehicles, and fulfillers from multiple lines of businesses and regions.
Passenger Transport Case Study
A Leading International Public Transport Operator Is Transforming Employee Safety and Operational Efficiencies by Joining Tourmo's AI Platform.
Tourmo's implementation is fast and easy, requiring no expensive rip and replace and yielding an ROI of up to 10x in just 2 to 4 months after deployment. Contact us today to learn how Tourmo can help maximize your existing solutions with automated, AI-powered insights.

Your Passenger Transport Challenge:
Reliability, Fair and Accurate Scoring, and the Unknown Costs.

Your company's success depends on your drivers, crews, and equipment being consistently reliable, efficient, and connected.
We know fleet managers continuously look for inefficiencies and unusually high operating costs. Tourmo is as committed as you are to uncovering all the unknowns surrounding your mobile operations.

Your AI-Powered Solution:
From Tourmo.

Tourmo's AI-powered platform takes the manual processes and guesswork out of fleet and workforce management. Our public transport fleet management system software will provide your entire workforce and all stakeholders with the visibility needed to run passenger transport fleets as efficiently as possible through reducing risk and costs and increasing safety, compliance, and revenue.
Passenger Transport Features:
Device-agnostic solutions that leverage existing data from multiple devices
Deployment of best solutions for each line of business or region
Easy to deploy and easy to use (low change management)
Intuitive, clear, and informative tools with impactful information
Improve driver behavior with actionable performance and driver scorecards
Mitigate risks with safer driving
Efficient workflows for repetitive processes
Real-time monitoring of job progress
Gain critical proof-of-service and compliance data
Maintenance prevention
24/7 location awareness and asset management
Increase emergency response
Auditable processes
What Passenger Transport Mobility Looks Like.
Tourmo's AI-Powered Mobility Platform.

---
Scoring and Stats Dashboard:
Our intuitive and comprehensive analytics dashboard will allow you to identify issues immediately and efficiently dive further into the advanced score data calculated on the mobile app.
---
Driver Views and Routes:
View your trip history and on-duty and off-duty status. You will improve efficiency, dispatch services, and customer satisfaction by using precise route mapping and locations.
---
Mapping and Fleet View:
Track all driver locations on a map and their on-duty and off-duty statuses throughout the day.
---
Workflow & Task Management View:
Our tools allow an organization to perform and monitor a process of AI-driven, automated, prioritized, and defined tasks to boost productivity, cut costs, improve agility, and optimize information flows.
---
Video View:
The Tourmo AI-powered platform collects recordings based on events of importance to your organization. Video clips are available within our platform, categorized by journey, driver, and event.
Partner with Tourmo — We Can Make a Difference in Your Company
The Tourmo AI-powered platform has more than 600,000 users in 151 countries. Our technology isn't just cutting-edge; it's patented in the USA to make it a solution like no other. It utilizes AI and Machine Learning to make better driving behavior analysis and decisions virtually automatic.
Contact us

today to learn more about how Tourmo can add value and cover gaps in your current public transport fleet management system.