ENERGY/UTILITIES INDUSTRY
Mobile Workforce Management Software for Utilities Industry
You face the unique challenge of unpredictable service disruptions. Our workforce management software can help you restore customers' power quickly and safely.
Our fully integrated fleet, workflow, and task management platform has helped companies minimize risks and prepare for the unknown by:
Developing safer driving practices
Providing more thorough compliance supervision
Gaining better visibility into fleet and workforce environments
Tourmo's AI-Powered mobility platform GPS tracking solutions allows you to track employee whereabouts and movements in real-time, ensuring that your workforce is where they need to be.
Better visibility is a critical first step toward creating models that maximize resources, protect your assets, and allow real-time adjustments.
Our device-agnostic approach is the foundation of a proper enterprise mobile workforce management solution.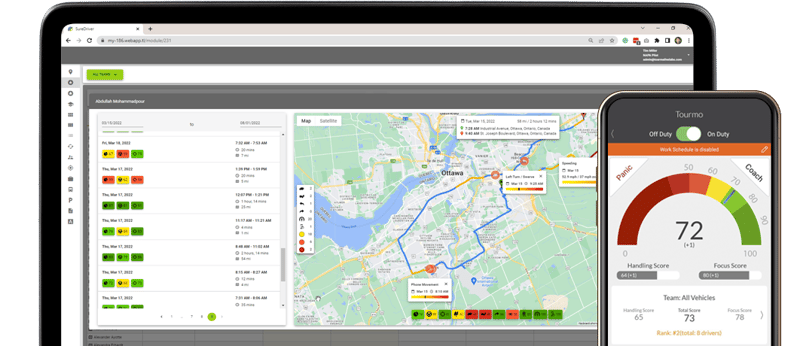 Information moves quickly in today's digital age, and companies must gather data from various devices to keep pace. Those devices include:
Smartphones
Tablets
Cameras
OBD-II devices
OEM vehicle systems
However, data integration from an ever-increasing list of sources is becoming exponentially complex, and you need the right technology to do so effectively. Tourmo's platform allows companies with mobile workforces to collect, cleanup, unify, and derive value from any device.
Gain a complete and accurate understanding of all mobility data across your organization in a single view.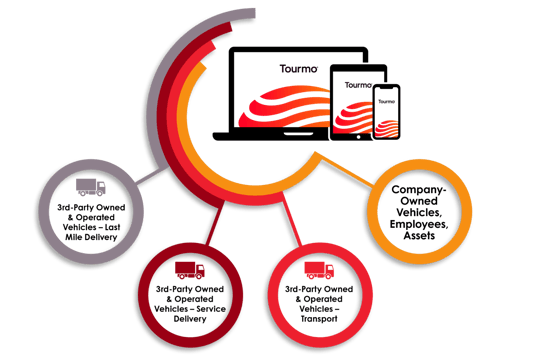 Tourmo's AI-Powered Mobility Platform
numerous lines of business and geographies, the Tourmo platform gives a single view with actionable analytics.
Tourmo's implementation is fast and easy, requiring no expensive rip and replace and yielding an ROI of up to 10x in just 2 to 4 months after deployment. Contact us today to learn how Tourmo can help maximize your existing solutions with automated, AI-powered insights.

Face the challenges of
uncertain reliability and unknown costs.

The daily reliability, efficiency, and connectedness of your drivers, employees, and equipment are critical to the success of your business. As the person in charge of operations, you always look to identify and eliminate inefficiencies and exceptionally high operational costs. And you're seeking a tool that's just as determined as you are to find answers to all of your mobile operations' uncertainties.

Your AI-Powered Solution:
From Tourmo.

Tourmo's mobile workforce management software automates fleet and worker management for utilities, eliminating manual effort and guesswork. Our open platform, which is device-agnostic, gives you and your workforce and workflow stakeholders the visibility they need to run their energy and utility fleets as efficiently as possible while lowering risk and costs and enhancing safety, compliance, and profitability.
Utilities/Energy Industry Features:
Device-agnostic solutions that leverage existing data from one or multiple devices
A solution deployment that best fits each line of business
User-friendly deployment
Actionable performance and driver scorecards that improve driver behavior
More efficient workflows
Accurate monitoring of job progress
Comprehensive gathering of critical proof-of-service and compliance data.
Production of auditable data
Improved emergency response times
Enhanced asset management
Real-time location awareness
Maintenance prevention.
What Utilities/Energy Mobility Looks Like:
Tourmo's AI-Powered Mobile Workforce Management for Utilities

---
Scoring and Stats Dashboard:
You can examine the advanced score data calculated on the mobile app in more detail on the analytics dashboards.
---
Driver Views and Routes:
View your trip history as well as your on-duty and off-duty status. With precise route mapping and locations, you can boost efficiency, improve dispatch services, and boost customer satisfaction.
---
Mapping and Fleet View:
View all driver positions on a map and their on-duty and off-duty statuses and track them throughout the day.
---
Workflow & Task Management View:
Allows an organization to perform and monitor an AI-driven, automated, and defined series of operations and tasks to increase productivity, lower costs, become more agile, and improve information flows within the company.
---
Video View:
The Tourmo AI Platform gathers recordings based on events that are meaningful to your business. Thirty-second video is available inside the application (by the journey, the driver, and the event).
Our Mobile Platform is What Your Utility Business Needs to Outpace the Competition
Our proprietary technology utilizes AI and Machine Learning to automate driving behavior improvement, critical workflows, and business decisions.
Contact us today to discuss how we can tailor a mobile workforce management solution to meet the specific needs of your utility business.