Fleet Data Management: The What, The Why, and The How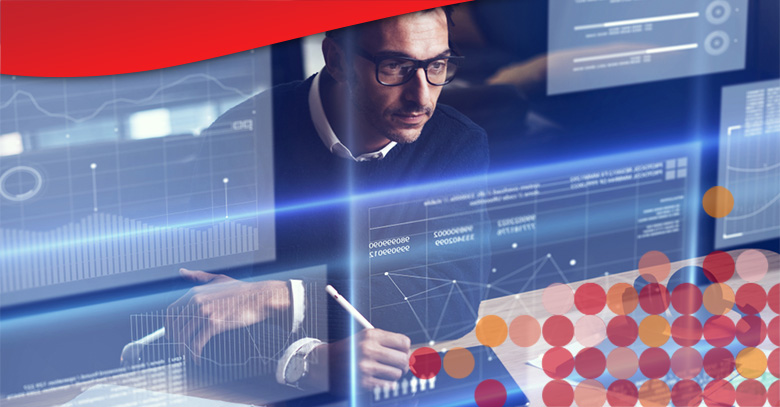 Fleet data management is inextricably linked to effective and successful fleet operations management. Continuous data collection and analysis of fleet data on fuel costs, driver behavior, maintenance, safety and compliance, and other enterprise fleet measures will be required to enable managers to make operational changes, increase productivity, reduce costs, and remain competitive.
If you have questions about the fleet data management process and how it can be used to create more effective, productive, and safer fleet operations, this article is for you. This article will define fleet data management and explain how businesses can use data analysis to boost productivity before delving into the advantages of using Tourmo's AI-powered platform for all of your data management needs.
Q: What Is Fleet Data Management?
A: Fleet enterprises, regardless of industry, must keep track of data on asset utilization, fuel prices, jobs/appointments, maintenance, location, and more on an ongoing basis. Large amounts of fleet data must be continuously collected and evaluated to gain better insight and visibility into fleet performance.
The insights gained from this process must also be reintegrated into daily operations, as reporting and storing data alone will not result in any improvements and is extremely inefficient to sift through. To achieve operational improvement effective fleet data management will require transforming insights gained from fleet data analysis into actionable information and subsequently tasks.
Q: Why Is Fleet Data Management Important?
A: Fleet management involves much more than the simple monitoring and maintenance of fleet vehicles; it requires continuous fleet data management and delivery of actionable insights. While continuous data management can be challenging, it can identify trends and weaknesses in a company's operations model and illustrate opportunities for improvement quickly.
Many fleet enterprises will use various fleet management technologies to enhance how fleet data is gathered and analyzed. However, the enormous volume of data, reports, and notifications generated by these systems may make data management extremely time-consuming and prevent access to critical information when it counts.
Effective fleet data management is used to gain the following benefits:
Enforced Compliance Standards — Fuel management and CO2 industry standards are more important than ever. Regulations imposed by the Department of Transportation (DOT) and other agencies may govern how you do business. It will be important to monitor fuel management and CO2 emissions using advanced data analytics to maintain compliance standards.
Reduce Fuel Costs — Efficient fuel spend is a main objective for all enterprise fleets. Fuel expenses should be continuously monitored, controlled, and lowered via effective data analysis processes, while also helping to eliminate fuel theft.
Enhanced Employee Oversight — Monitoring driver behavior helps to limit the risk of injury to drivers, vehicles, equipment, and communities in which they operate. With the use of AI and machine learning technology, you can acquire unbiased systematically generated data analysis for coaching or training purposes and reduce accident rates.
Enhanced Operations Insight — When data is used to gain insight into company operations, great opportunities for strategic decisions and proactive actions emerge. Instead of making reactionary decisions, companies are able to plan ahead and avoid operational problems with advanced fleet data management and actionable reporting.
Implementing a powerful, automated, and unified AI-powered system, like Tourmo AI, capable of integrating multiple disparate solutions and generating predictive insights from the data collected from multiple sources, can boost fleet operations' efficiency, variable operational cost reduction, and safety.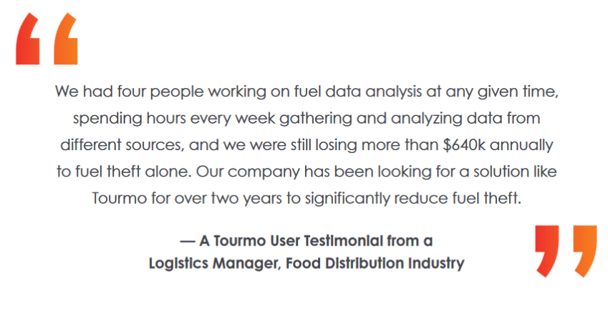 Q: How Should I Collect Fleet Data?
A: In addition to the challenges involved in data analysis that were previously discussed, collecting reliable data is another significant challenge involved in data management. To expand your data set sourcing and optimize actionable information, you should collect fleet management data from multiple sources, such as:
Location — GPS data is the basis of understanding movement. This type of data helps with operational metrics and on-time performance as well as driver behavior discussions in the context of vehicle location and whereabouts. Further, location availability helps drivers visualize the events from the map as opposed to discussing only figures and reporting.
Vehicle — Most telematic systems rely on information obtained directly from the vehicle. However, this should also include specifics like the state of the vehicle and fuel consumption, in addition to information concerning driver behavior such as aggressive driving and speeding.
Environmental — With the help of Tourmo AI, companies can gain access to environmental data such as weather, elevation, vehicle type, and other crucial factors, which can provide data analysts with a keen sense of context when examining driving behavior. This environmental contextualization helps identify the best of the best and the riskiest of the risky drivers more efficiently prioritizing your recognition and coaching.
Mobile Devices — These devices enable contact with drivers throughout the day and encourage engagement and feedback. Mobile devices provide information about the route and remote activity, but also can be used to communicate findings from the data directly to the driver.
Disparate Data Sources — A problem that many enterprise fleets struggle to solve with a reasonable amount of time and money is the ability to integrate data gathered from multiple systems. Tourmo's AI technology enables analysis across multiple sources and produces valuable and complete information and systematically generated exceptions to drive prioritization and decisions within your mobile operations.
Q: How Can I Use Fleet Data to Increase Productivity?
A: Several Key Performance Indicators (KPIs) should be used to measure and increase fleet productivity. However, this process requires patience as determining a performance baseline and using metrics over time will be crucial to determining your progress.
A few examples of enterprise fleet measures with direct financial implications include:
Driver behavior (i.e., speed, idle, rapid acceleration, harsh acceleration, jerking, etc.)
Fleet performance and efficiency
Fleet utilization levels
Customer satisfaction
Fleet maintenance
Fuel and CO2 levels
Compliance and safety levels
Once you have determined the specific KPIs your company will be tracking, it will be important to consider both real-time, historical data, and driver reporting to help determine where your fleet and drivers are performing well and locate any weaknesses in your current model.

Tourmo AI — Advanced Fleet Management Data Solutions
Next-generation solutions, like Tourmo AI, provide much more than simple tracking and monitoring capabilities. Our AI-powered platform enables companies to unify and correlate data from their existing technology investments and gain access to valuable insights across their entire fleet, resulting in more effective, fuel-efficient, and safer fleet operations.
Tourmo AI can aggregate fleet data from multiple disparate data sources and turn highly accurate insights into automated tasks, with the ability to automate both the creation of insights and any subsequent actions that must be taken.
Our patented technology produces measurable results and will help you get the most out of your existing technology investments. Tourmo AI is easy to use, highly configurable, and capable of providing a personalized experience to each user/stakeholder to achieve the best results. Going further, our technology can plug into your existing solutions with no expensive rip-and-replace involved.
We've listed the benefits of Tourmo's AI-powered solutions for further consideration below:
Tourmo AI — Intelligent Automated Mobility Workflows
Tourmo's AI-powered mobility workflow automation platform was designed for enterprise organizations with business-critical mobile operations. Our technology provides advanced analytics and automated workflows necessary to support critical networks of people, vehicles, customers, and partners.
Unlike traditional telematics systems and multiple disjointed point solutions that require manual oversight and analysis that commonly involve high degrees of human error, Tourmo combines Artificial Intelligence, Machine Learning, and automation technologies to generate and deploy actionable workflows capable of dramatically improving mobile operations.
The first step in improving your fleet data management processes starts with using the right solution. Tourmo can enable your company to eliminate time-consuming manual oversight and management processes associated with managing multiple solutions and large amounts of fleet data with confidence in the accuracy of its generated insights and its ability to take action in real-time to reduce costs and improve productivity and safety.
If you'd like to learn more about how Tourmo AI can improve your fleet data management processes, Contact us today!
---
Share this article:



---

Steven Pifko, VP System Engineering
Steven currently serves as a Vice President of System Engineering at Tourmaline Labs™. Possessing more than 10 years of experience in systems engineering, he oversees the design and implementation of sensing algorithms and control systems, product reliability, and data analysis.