Fleet Route Optimization: More Than GPS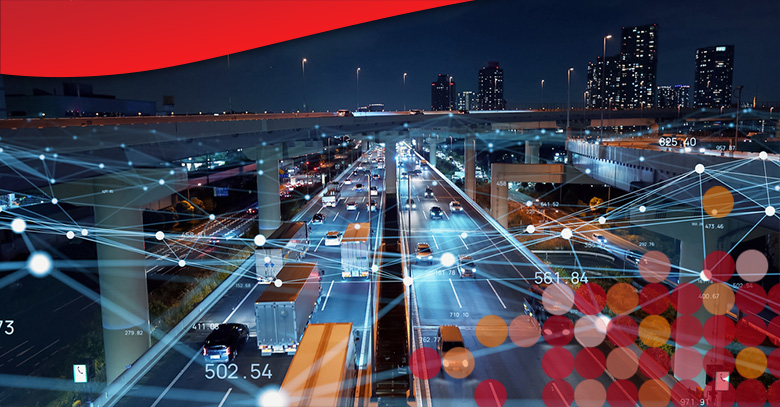 The use of out-of-date fleet management solutions by many fleet enterprises can prevent them from making real-time decisions that would allow them to optimize routes and quickly rebound deliveries to deliver goods to customers on time. Fleet route optimization involves more than just using GPS technology; if you want to stay competitive in tough economic times, you'll need cutting-edge technology.
This blog will discuss the difficulties fleet managers encounter when determining the most efficient and cost-effective routes for fleets. We'll offer suggestions for route optimization with a focus on the advantages of using artificial intelligence (AI) and machine learning that exceed the capabilities of traditional fleet management software with GPS.
What is Route Optimization?
Planning the fastest and most effective route for a fleet to deliver goods and services is a continuous route optimization process. The route optimization process in logistics and delivery planning is crucial because it enables a mobile workforce to drive less and operate more safely and efficiently. It also optimizes on-time delivery, which increases customer satisfaction and retention levels.
Traditional fleet management software with GPS technology can show the quickest and safest route to any destination. Evaluating distance to location, stops, vehicle capacity, historical timings, and traffic aid in a vehicle's suggested route.
However, given the numerous unexpected and real-time interruptions that occur during the workday, businesses will need to move beyond traditional GPS systems that rely wholly on or in part on human monitoring and manual intervention to achieve higher levels of efficiency.
Fleet Route Optimization Best Practices
To ensure greater efficiency and productivity in the face of rising fuel prices, growing consumer expectations, and driver scarcity, route optimization will be crucial to your company's success. You can enhance your current route optimization processes by using the best practices suggested below.
Fleet Management Software
Fleet managers ultimately choose the best delivery route and outline routes for each driver. This task, however, can be extremely challenging given that many fleet managers quickly become overwhelmed by the large amounts of data required to make quick decisions and that real-time information may not always be available or accessible throughout the workday.
When there are more work orders, unplanned weather, and traffic events, and when rerouting and rapid response are required, fleet optimization becomes increasingly difficult and requires flexibility. Complex routing issues will necessitate the use of route optimization software that provides a few foundational benefits, such as:
GPS technology
Asset location awareness and management
Real-time monitoring of job progress
Service visit monitoring & verification
It's important to note that while traditional fleet management solutions are capable of route planning, fuel cost estimation, and driver delivery verification, they will fall short in areas like predictive logistics, analyzing complex route conditions, and incidents that call for rapid rerouting.
Solutions that rely on manual fleet management and routing oversight will be prone to delays caused by human limitation and error. This is where utilizing cutting-edge technology powered by AI and machine learning becomes crucial.
Artificial Intelligence and Machine Learning
Artificial intelligence and machine learning technology can evaluate large amounts of real-time data and perform tasks traditionally performed by fleet management. These technologies are capable of processing complex and vast amounts of data, making accurate predictions and supporting the strategic choices necessary to improve fleet route optimization and productivity levels.
Fleet enterprises will need to utilize software solutions with AI and machine learning capabilities to get ahead of a competitive market. These systems can support faster deliveries and rapid fleet route optimization beyond what was previously possible.
Tourmo's AI-powered mobile Workforce Operations solution provides the following features:
Accurate event data, normalization, contextualization, and advanced route reasoning to remove inaccuracies
Real-time monitoring of job progress and delivery estimates
Real-time ETA
Automated Progress Updates
Activity/Inactivity Monitoring
Implement Automation
Daily decisions are most successful when they are based on accurate observations obtained from fleet data. You should implement and use automation to lessen the burden of human intervention and ensure that action is taken automatically when incidents occur. This will ensure that your route optimization and planning process is carried out automatically.
Consistent handling of routing issues when they occur is a major benefit of implementing automation into your fleet operations. Tourmo's AI-powered business management solutions provide automation, task management insights, and transparency across fleet enterprises to help them discover valuable insights from their data and integrate them into their business workflows.
Tourmo AI's Workforce Operations Solution
As more fleet data is generated and gathered as technology develops, posing insurmountable difficulties for fleet managers to analyze this data and take actions based on it. When problems arise, businesses will need the assistance of AI technology to help them make informed predictions and decisions.
Tourmo AI's Workforce Operations solution can provide visibility to optimize your plans and deployments and enable real-time resource and asset adjustments. Our dashboards help get your entire team on the same page while our GPS tracking tool tracks employees' location and driving behavior patterns.
The following are a few benefits of Tourmo AI's Workforce Operations solution:
Better engagement — up to 25% increase in workforce utilization
More reliability — up to 10% reduction in unnecessary trips
Higher satisfaction — up to 15% increase in customer satisfaction
Lower cost — up to 40% fleet management cost savings
Partner With Tourmo — Advanced Fleet Route Optimization
For the cutting-edge advantages they offer, many fleet businesses are integrating AI and machine learning technologies into their daily operations. AI technology is helping businesses across several industries resolve complex routing and delivery issues that negatively impact their ability to deliver quick, effective service.
If you need to handle fleet route optimization consistently and effectively, consider how AI technology and automation can improve your current fleet operations. This technology can introduce predictive analytics, highly accurate evaluations of fleet performance data, and help fleet managers respond to situations requiring rapid rerouting.
Contact us today if you'd like to learn more about how Tourmo can take fleet route optimization to the next level!
---
Share this article:



---

Matt Braun
Matt Braun leads the Solutions Consulting team at Tourmo. He helps Tourmo customers better understand their challenges and uncover creative, efficient solutions to improve their operations. He guides them through the benefits provided by mobility workflow automation, AI-powered tools and reports, and the value of data science. Matt's focus on clear, actionable, and effective information is foundational to all prescribed solutions. Matt came to Tourmo after 15 years as Sr. Director of Performance Improvement at First Student –– an organization operating a fleet of more than 40,000 vehicles. He holds a Bachelor of Business Administrations from the University of Cincinnati and a Masters of Business Administration from Thomas More College. Matt and his wife live in the Cincinnati area where Matt coaches most of the sports of their 2 sons and daughter.