How to Improve Fleet Utilization in 3 Steps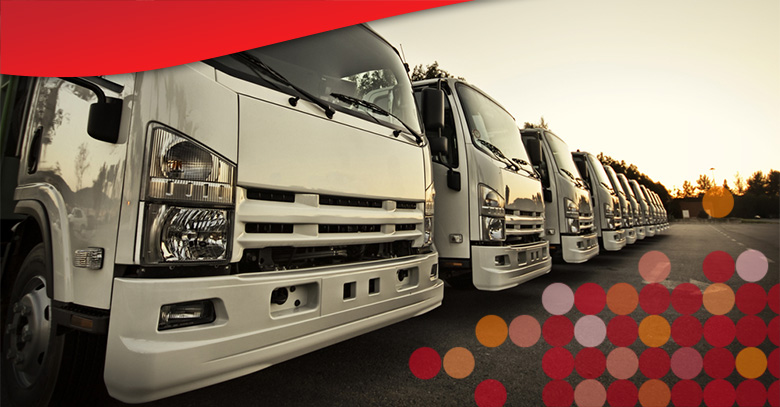 For most fleet managers, fleet utilization is a top concern. Using metrics and developing a comprehensive strategy will be necessary to maximize performance levels. The process will involve collecting fleet data, rigorous assessment of this data, meticulous planning, taking action, and ongoing oversight to ensure that every vehicle is used to its maximum potential and your strategy delivers long-term savings.
This blog will define the fleet utilization process and explain why it is crucial to reduce costs. We'll also discuss how fleet utilization is changing due to new technology. To help you improve your current fleet utilization strategy, we'll list several best practices that will show you how to improve fleet utilization, reduce manual overhead, and boost customer satisfaction levels.
What is Fleet Utilization?
Fleet utilization is ensuring optimal fleet usage over a period of time by identifying and monitoring Key Performance Indicators (KPIs) and measurements. While the metrics used to help businesses analyze fleet performance and evaluate fleet utilization may vary by company, the process will determine the number of vehicles an enterprise uses — whether it increases or decreases that quantity.
The fleet utilization process will provide valuable information that enables an organization to make better decisions instead of responding in a reactionary manner. It will ensure that you can maximize fleet performance and reduce operational expenses. A company's understanding of its fleet, operations, and client demands will be improved as a final benefit.
How Do I Increase My Fleet Fuel Efficiency?
There are a number of practical ways to reduce expenses and increase the fuel efficiency of your fleet. The best solutions will help you stay updated on fleet operations, reduce fuel consumption, perform preventive maintenance, and more.
Reducing behaviors known to increase fuel consumption (e.g., reckless driving and excessive idling) is one of the best ways to improve fuel efficiency. In-depth reporting, cutting-edge analytics, system-driven driver feedback, and a real-time view of your fleet operations are all features of Tourmo's Driver Behavior solution that can help you with fuel efficiency concerns.
What Is a Fleet Utilization Rate?
While achieving 100% fleet utilization is unattainable, using metrics to calculate utilization and developing a strategy to maximize your fleet's capacity will ensure your business choices are well-informed and that your operating expenses are significantly reduced.
Instead of accounting for your actual fleet usage, the fleet utilization rate establishes your capacity potential. It can be defined in its simplest form as the difference between the maximum possible mileage for the whole fleet and its actual mileage driven over time. For example, if you have a fleet utilization rate of 50,000 miles per year and your fleet vehicles only travel 25,000 per year, your fleet utilization is 50%.
Additionally, a near term understanding of ideal miles driven and identifying vehicles that were drastically under, or over, that ideal amount can lead to removing excess fleet or balance utilization across the fleet. Keeping tabs on recent utilization can drive down costs in maintenance and insurance (by reducing fleet size).
How To Improve Fleet Utilization in 3 Steps
Increasing fleet utilization will allow you to do more with fewer resources and increase the overall productivity of your fleet. We've listed a few best practices below to help you get started.
1. Determine Optimal Fleet Size
Unnecessary and excessive costs will result from an oversized fleet. In contrast, you won't be able to meet customer demand if you rely on a small fleet of vehicles. Your fleet's ideal size can be determined using the fleet utilization process. Right-sizing your fleet will ensure you can meet customer demand and keep costs low.
2. Use Technology to Improve Visibility
Fleet managers commonly use telematics technology and fleet management software to increase fleet utilization. There are many solutions on the market that can make an impact on optimizing a fleet. However, next-generation technology that utilizes AI and machine learning is dramatically changing how fleet enterprises maximize their productivity levels.
Tourmo's Workforce Operations solution will allow you to transform your mobile workforce operations with AI technology and automated workflows, providing benefits such as:
Increased productivity gained from AI-driven insights that seamlessly integrate with customizable, automated workflows
More work completed with fewer mistakes – whether your employees or a third party – thanks to on-site process management and issue reporting
Better visibility of the work being performed using real-time data, providing a comprehensive picture of your operations to identify and resolve issues remotely
3. Automate the Implementation of Your Strategy
In the past, collecting, analyzing, and leveraging data posed a significant challenge for fleet enterprises, which frequently lacked the time, resources, and manpower necessary to take advantage of their collected data and take the action required to improve performance levels.
Tourmo's patented AI technology combined with automated workflows makes it possible to leverage fleet data and take action in real-time, eliminating the need for time-consuming manual processes and human intervention.
Tourmo's AI-Powered Platform to Improve Fleet Utilization
The pressure on fleet managers to find areas for improvement and accomplish more with fewer resources is a constant challenge. It is common knowledge that the fleet utilization process will enable fleet managers to maximize the use of their fleets, preventing the negative financial consequences of owning either too many or too few vehicles.
What is not as well known is how innovative technology can take your current fleet utilization solutions to the next level, making the process easier and much more efficient with up to a 25% increase in workforce utilization.
Contact us today if you'd like to learn more about how to improve fleet utilization and how Tourmo's AI-powered platform can help your fleet perform at a higher level.
---
Share this article:



---

Marc Brungger, CEO
Marc Brungger is CEO of Tourmo™, responsible for expanding and executing a new, audacious roadmap to put Tourmo at the forefront of a new era in Artificial Intelligence-based mobility platforms. Prior to joining Tourmo, Mr. Brungger held a series of leadership positions, successfully strengthening several technology companies through transformative stages.