Fleet Management Statistics for 2022-2023: What You Need to Know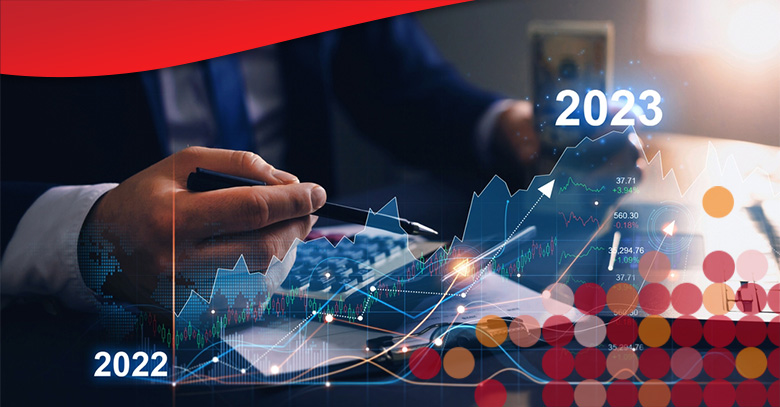 Your company's fleet management efforts will be successful if you can anticipate future market changes using firm data and statistics. Unfortunately, even with access to data, it can be challenging to predict how market changes will impact your company and how to use numbers and statistics to your advantage.
This blog will highlight some of the most recent fleet management trends and vital fleet management statistics for the remainder of this year and into 2023 to carefully consider the current state of fleet management and help you stay prepared for where it's headed.
Fleet Management Statistics: The Highlights
All eyes are on fleet management for 2023 amid concerns about recessionary conditions, the war in Ukraine, and supply chain disruptions. However, industry experts and numbers predict fleet management growth despite the high stakes. According to a recent report published by MarketsandMarkets, the Fleet Management market is expected to grow at a Compound Annual Growth Rate (CAGR) of 15.5%, from USD 25.5 billion in 2022 to USD 52.4 billion by 2027.
While growth is expected to continue through tumultuous times, fleet managers should be aware of several significant trends in the coming years. We've relied on Heavy Duty Trucking (HDT) 's annual fact book to provide insight into current and upcoming industry trends and concerns, which you can find below.

Top Industry Trends
Common fleet management concerns in 2022 have included vehicle supply, cost inflation, extended repair times, EV transition, management of telematics data, and improving fleet productivity with technology. As diesel prices hit record highs this year, fuel efficiency and reducing fuel spend remained top concerns.
It's unclear where things will go from here as the Fed raises interest rates to slow the economy and address record inflation. However, what remains clear is that fleet managers must remain deeply invested in fleet oversight and management while remaining capable of making the right decisions at the right time.
An increase in for-hire trucking was an important development for 2022. Despite challenges in truck production, the for-hire trucking fleet grew in the last year and a half, primarily among small fleets, according to HDT. Carriers increased from 196,228 in January 2021 to 324,609 in July 2022, while trucks grew from 1.97 million to nearly 2.6 million.
Furthermore, the use of fleet management solutions to assist in the management of large fleets has increased dramatically across most industries. The need for solutions in 2023 that enable businesses to generate delivery ETAs, track equipment, access predictive maintenance and analytics, and monitor fuel consumption and CO2 emissions are emphasized.
Logistics Concerns
The COVID-19 pandemic has posed significant challenges to this year's supply chain. In 2022, supply and labor shortages sparked widespread public concern, as did increased cybercrime risks in the logistics industry. Unfortunately, current trends indicate that many of the supply chain disruptions experienced in 2022 will continue into the next year.
The global logistics market is expected to grow at a 6.8% CAGR between 2022 and 2030, owing to an increase in e-commerce logistics, container shortages, port closures causing port congestion, a shortage of truck drivers, and limited capacity in the air freight market.
Supply chain organizations are expected to rely heavily on automation and outsourcing in 2023. This year, ongoing supply chain disruptions drove freight rates higher, forcing shippers to rely more on third-party logistics companies and develop private or dedicated fleets. Next year, last-mile delivery capacity will continue to be in high demand.
Driver Safety Initiatives
Driver safety is always a top concern for fleet managers. However, safety initiatives were of the utmost importance as road fatalities in the United States reached a 16-year high this year. According to the National Highway Traffic Safety Administration, 42,915 people were killed in motor vehicle traffic accidents, a 10.5% increase from 2020 and the highest number of fatalities since 2005. In addition, fatalities involving large trucks (weighing over 10,000 lbs) increased by 13% from 2020.

Technology is expected to be critical in keeping fleets running safely in 2023. While many fleet management companies have adopted standard solutions, including driver behavior monitoring, GPS, in-cab cameras, and more, AI-powered solutions, like Tourmo AI, will take fleet enterprise solutions to even higher levels of safety with driver scoring programs including automatic coaching and positive recognition programs.
Positive recognition programs built from Tourmo AI not only will help reinforce desired safe driving, but will also help with driver retention by acknowledging (publicly and privately) drivers that have improved or perform at a high level therefore increasing your likelihood to retain your safest, best drivers.


Sustainability
Environmentally friendly initiatives have been a major topic of discussion this year. In the near future, sustainability has become a major goal for fleet management companies, leaving many industries concerned about how to achieve their sustainability goals.
A recent IDTechEx report, "Electric and Fuel Cell Trucks 2023-2043," provides a detailed analysis of the emerging zero-emission truck market. The report forecasts rapid growth for the global zero-emission truck market over the next decade at a CAGR of 37.1%. It expects the global medium and heavy-duty zero-emission truck market to be worth more than $200 billion annually by 2043.
While the fleet industry shifts away from reliance on gasoline and diesel-powered vehicles and early adopters transition to clean transportation, it is clear that technology will also play an essential role in helping companies in achieving their larger sustainability goals. In 2023, fleet managers should continue looking for AI-powered Fuel & CO2 solutions to monitor driver behavior, increase fleet efficiency, and reduce CO2 emissions.
Tourmo AI — Advanced Fleet Management Solutions
To remain competitive in the face of challenging market conditions, fleet management companies must embrace advanced technologies capable of improving company-wide visibility, management, and analysis of large amounts of fleet management data.
While concerns about fuel prices, inflation, and recessionary conditions continue to loom over the market, supporting and protecting your business in the coming years is evident. You must have firm plans backed by data and advanced fleet management solutions. Tourmo AI can help you make the right decisions at the right time, ensuring your fleet's safe and efficient operation.
If you'd like to learn more about fleet management statistics for 2022-2023 and how Tourmo AI can help you overcome challenging market trends ahead, Contact us today!
---
Share this article:



---

Matt Braun
Matt Braun leads the Solutions Consulting team at Tourmo. He helps Tourmo customers better understand their challenges and uncover creative, efficient solutions to improve their operations. He guides them through the benefits provided by mobility workflow automation, AI-powered tools and reports, and the value of data science. Matt's focus on clear, actionable, and effective information is foundational to all prescribed solutions. Matt came to Tourmo after 15 years as Sr. Director of Performance Improvement at First Student –– an organization operating a fleet of more than 40,000 vehicles. He holds a Bachelor of Business Administrations from the University of Cincinnati and a Masters of Business Administration from Thomas More College. Matt and his wife live in the Cincinnati area where Matt coaches most of the sports of their 2 sons and daughter.