Challenges of a Mobile Workforce in 2023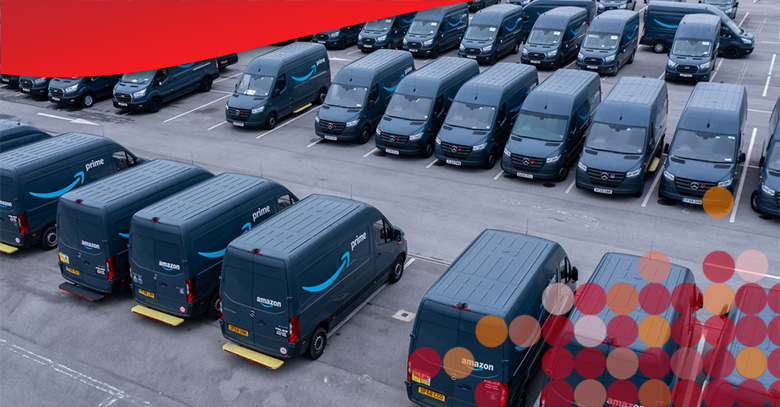 Amazon and Uber are changing the way businesses interact with their customers and raising the bar for providing high-quality customer experiences across all industries. In today's fast-changing market conditions, companies that manage mobile workforces must be swift, efficient, and flexible when making everyday decisions.
For companies that manage mobile workforces, recent market disruptive and transformative trends emphasize the importance of effective mobile workforce management and the application of appropriate technological solutions.
The challenges of a mobile workforce include managing and overseeing multiple daily tasks to ensure employees can perform well and access critical business information remotely. And if you're managing a small delivery fleet, challenges can be caused by supply and demand shocks, factory closures, rapid rerouting incidents, and much more.
This blog will briefly explain mobile workforces before listing potential challenges and trends to expect in 2023. In addition, we'll discuss how Tourmo's AI-powered platform can help with challenges such as visibility, productivity, satisfaction, sustainability, and safety.
What is a Mobile Workforce?
Employees who work outside a centralized office for extended periods, if not their entire day, are referred to as mobile workers. These employees require specialized support as they conduct business outside physical office space. Mobile workers can include delivery drivers, field service technicians, sales reps, and agricultural field laborers.
Mobile workers, who are frequently dispersed across multiple cities and states, if not nationally or globally, require the assistance of advanced technological solutions. These solutions should provide secure connectivity, facilitate real-time communication between the company and its mobile workforce, and accelerate the exchange of information needed to complete and manage work-related tasks.
The Challenges of a Mobile Workforce
Businesses will face several complex challenges when managing a mobile workforce next year. Amazon, for example, is reporting worldwide delivery delays that are expected to continue into 2023. These shipping delays will likely impact the holiday season and lower customer satisfaction ratings, potentially leading customers to shop elsewhere.
Companies that manage mobile workforces across several industries have similar concerns connected to customer and employee satisfaction, workforce productivity, visibility, safety, and more. We'll highlight and discuss the top challenges of a mobile workforce below.
Visibility
Maintaining visibility and appropriate reporting across a mobile workforce continues to be a significant challenge for many businesses. While many companies choose to work with advanced technological solutions such as Tourmo AI, other businesses attempt to manage their mobile workforce through manual processes and instinct, leading to higher rates of human error, downtime, and increased costs.
Low visibility into a mobile workforce can significantly impact a business in several ways. Customers may be dissatisfied with a lack of predictability in service, and a company may be unable to make process changes without significant disruptions and high costs. Worse, this can lead to a lack of visibility into the health of your mobile workforce, adherence to field processes, or the validity of required licenses, records, and certifications.
Productivity
Monitoring productivity is one of the most frequently reported concerns of companies managing a mobile workforce. Contrary to popular belief, mobile workforces are said to be more productive than employees who work in a physical office. However, challenges remain in monitoring and managing their day-to-day tasks to ensure the highest levels of productivity and efficiency.
Companies with mobile workforces are constantly under pressure to do more with less. When time and resources are limited, they can find themselves in situations requiring increased levels of management oversight and directive and cannot provide it. Furthermore, as service scenarios become more complex, managers and other stakeholders may find themselves powerless when something unexpected impacts their business (e.g., COVID-19).
These circumstances will necessitate using advanced technology solutions, such as Tourmo AI, that can help boost productivity, monitor whether work is being completed as planned, streamline service delivery, and assist businesses in making necessary adjustments automatically.
Customer and Employee Satisfaction
Businesses that manage mobile workforces frequently face daily challenges related to providing on-time service, keeping customers satisfied with the service provided, and improving the customer and employee experience. In today's fast-changing economic climate, businesses must be swift and flexible when making decisions as their mobile workforce generates revenue.
Employees who lack access to critical business information necessary to perform their daily tasks, lack connectivity and communication with managers and other employees, and use outdated technologies are more likely to report lower levels of satisfaction with their jobs.
Companies that rely on telematics and GPS technologies alone to improve customer and employee satisfaction rates may struggle to manage large amounts of data generated by these systems, resulting in information overload and an inability to make the fast decisions necessary to ensure company assets and employees operate at peak efficiency.
Sustainability
Companies that support mobile workforces will have to learn new methods of being more effective and efficient. This is expected to happen in the coming years as more businesses adapt to hybrid and mobile working environments. As these changes occur, there will be greater emphasis on sustainability initiatives to reduce CO2 levels and waste to protect the environment.
Sustainability initiatives will include finding ways to conserve fuel, improve fuel efficiency, reduce CO2 emissions, digitize paper documents, and more. Companies can select from several sustainable fleet planning strategies. Working with Tourmo's advanced, AI-powered Workforce Operations solution capable of monitoring and reporting on your carbon footprint can help support the effectiveness of those efforts.
Safety
According to the National Highway Traffic Safety Administration's estimate of traffic fatalities, traffic deaths in the United States reached a 16-year high in 2021. The National Highway Traffic Safety Administration has released its preliminary estimate of 2021 traffic fatalities. According to the NHTSA, 42,915 people died in motor vehicle traffic accidents last year, a 10.5% increase from the 38,824 fatalities in 2020. Fatalities involving at least one large truck (trucks weighing more than 10,000 pounds) were up 13% over 2020.
It is critical that fleet enterprises adopt a company culture that promotes safe driving habits. Tourmo's advanced driver behavior workflows empower drivers to take control of their driving behavior and achieve higher performance levels immediately.
Tourmo AI allows supervisors to maintain complete visibility while our technology provides automated driver feedback. Drivers are encouraged to improve their driving skills without the intervention of a supervisor and to participate in gamification. When Tourmo AI detects a pattern of unsafe driving behavior, it will request supervisor coaching.
Tourmo's Mobile Workforce Solution
Tourmo's AI-powered Workforce Operations solution can monitor and verify your workforce operations while providing total visibility to all managers and stakeholders. Tourmo allows you to automate your plan, monitor worker progress, and make necessary changes while continuously updating your mobile workforce and consumers to ensure compliance and satisfaction.
Managers and company stakeholders can use Tourmo AI to reduce their reliance on manual tasks and human data analysis. Tourmo's AI technology can transform massive amounts of data into actionable processes that can drive daily decisions and raise awareness in critical areas of the company's operations.
Our AI-powered mobile workforce solution can track whether work is completed as planned, notify clients when something changes, and take action via automated workflows. Tourmo makes it easy to identify and manage issues like delays at client sites, unplanned stops, route deviations, and out-of-sequence deliveries, with features that include:
Service Visit Monitoring & Verification
Automated Progress Updates
Real-Time ETA
Activity/Inactivity Monitoring
Tourmo AI — Overcome the Challenges of a Mobile Workforce
Global shipping restrictions, fast-changing economic market conditions, and supply chain disruptions will continue to present significant challenges when managing a mobile fleet of delivery drivers for companies involved in the delivery and logistics industries. However, the challenges of a mobile workforce will extend to all industries that manage employees in remote locations.
Whether a company manages an in-home caregiver workforce, delivery drivers, or field service technicians, advanced mobile workforce technology will play a critical role in improving how these companies manage, derive insights, identify exceptions, make improvements, and overcome significant challenges in the future.
Tourmo can help you take your existing mobile workforce solutions to the next level. Our technology is more than just a tracking and monitoring solution. Our AI-powered workflows will allow you to scale workforce training and management, benefit from predictive analytics, and respond to rapidly changing conditions.
If you'd like to learn more about how Tourmo AI can help you overcome the challenges of a mobile workforce in 2023, Contact us today!
---
Share this article:



---

Matt Braun
Matt Braun leads the Solutions Consulting team at Tourmo. He helps Tourmo customers better understand their challenges and uncover creative, efficient solutions to improve their operations. He guides them through the benefits provided by mobility workflow automation, AI-powered tools and reports, and the value of data science. Matt's focus on clear, actionable, and effective information is foundational to all prescribed solutions. Matt came to Tourmo after 15 years as Sr. Director of Performance Improvement at First Student –– an organization operating a fleet of more than 40,000 vehicles. He holds a Bachelor of Business Administrations from the University of Cincinnati and a Masters of Business Administration from Thomas More College. Matt and his wife live in the Cincinnati area where Matt coaches most of the sports of their 2 sons and daughter.