How to Improve Fleet Fuel Economy: 5 Cost-Saving Strategies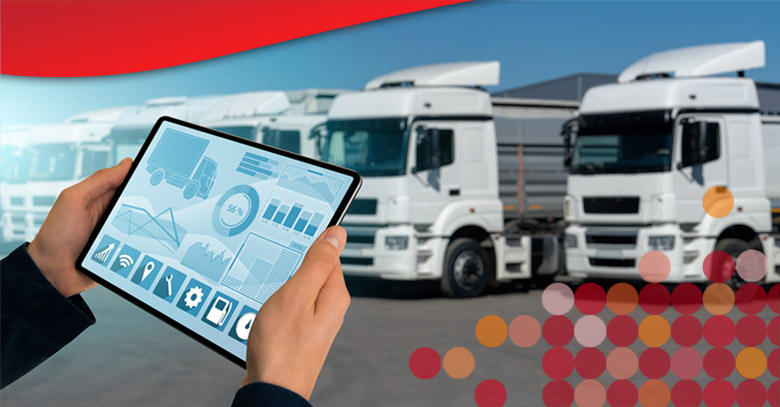 Managing a fleet of vehicles can be difficult and expensive, from ensuring timely product deliveries to satisfying maintenance requirements. However, one of the most costly aspects of fleet management is fuel consumption, and companies are looking for more ways to improve fleet fuel economy. Improving fuel economy can translate to a significant improvement in the bottom line potentially allowing businesses to make products and services more price-friendly for customers.
Five Cost-Saving Strategies To Improve Fleet Fuel Economy
Companies might consider the following five strategies to reduce fuel costs, and even potential downtime:
1. Employ Fuel Management Software
Automated fuel management software keeps track of fleet fuel consumption and provides management with real-time data on every gallon of gas consumed. Its features include:
The ability to track by vehicle and provide calculated fuel efficiency.
A secure web portal that allows access to data anywhere and anytime.
The option to create exportable data for advanced analysis, such as comparing driver consumption patterns, examining vehicle fuel efficiency, and identifying inefficient routes.
Monitoring systems that identify and communicate uncommon scenarios and catch suspicious fuel transactions and hold drivers accountable, reducing the risk of fuel fraud.
2. Communicate Early and Often
Clear communication between fleet managers and drivers is both time and cost efficient.
Drivers who receive real-time road condition information can choose, or are directed to, alternate routes instead of getting stuck in unexpected traffic or traveling back to the depot for the next assignment. Also, drivers can provide the central office with essential updates, such as delays or vehicle issues.
Companies might consider a fleet management platform that includes vehicle connectivity, workflow automation, and data collection capabilities to accomplish this. For example, central offices can direct assignments to a driver's mobile system, allowing them to immediately move on to the next job. The central office can also use the system's GPS tracking capabilities to determine which drivers are closest to the next assignment on their list.
3. Keep Your Fleet in Shape
Vehicle upkeep can be critical to cutting fuel costs. Parts that do not perform to their full potential reduce a vehicle's fuel efficiency. Keep the following details of your fleet vehicles in good working order:
Engine

. Standard tune-ups – or more comprehensive solutions for more severe problems – will boost fuel efficiency by up to 40%.

Tire pressure.

Companies can minimize fuel usage and improve mileage by up to 3% by ensuring proper tire pressure.
Air filter. The advantages of replacing a clogged air filter vary depending on the age of the vehicle. Replacing the filters of carbureted engines can significantly improve fuel efficiency and acceleration in older vehicles, but its impact on modern vehicles' fuel consumption is more moderate.

Oil.

Companies can boost mileage by up to 2% using the manufacturer's suggested grade of motor oil. Furthermore, oil with the API performance symbol for "energy conservation" saves you even more fuel.
Avoiding aggressive driving is a relatively simple way that fleet drivers can cut fuel costs. Driver monitoring and training that encourages safe driving minimizes the likelihood of accidents and holds drivers accountable for their fuel consumption.
Encourage safe driving practices such as:
Less frequent and aggressive acceleration
Smoother, less sudden braking
Adhering to speed limits
Using cruise control whenever possible
Efficient shifting techniques
Reserving four-wheel-drive usage for necessary situations
5. Choose More Efficient Routes
Efficient route planning is paramount for fleets that follow predetermined routes on public roads. Considerations might include:
Idling time. Vehicles get zero fuel economy when idle. When planning a route, management should keep aware of the busiest times of day and the number of stoplights to minimize idling time.

Fuel efficiency.

Finding the shortest path by distance does not always mean consuming less fuel. Fuel economy is also affected by road quality, traffic circumstances, and the speed limit.
Fuel Economy on varying surfaces. Companies should remember that the EPA bases its vehicle tests on flat ground rather than hills or uneven roads. A route with a more difficult topography will consume more fuel than one on a flat surface.
Fuel economy of your fleet compared to the average. The data from your software provider represents your fleet's fuel economy. GPS and routing technologies, on the other hand, are based on the average user's fuel efficiency.
Our Technology Assesses Data the Right Way

Companies must consider traveling environments when evaluating driving behavior's effects on fuel efficiency.
For example, a driver traveling through a mountainous region will accelerate more often than one crossing a flat stretch of road. These terrains require different driving behaviors, and a direct comparison of the two will provide minimal insight.
Instead, companies should compare drivers in similar vehicles traveling under like conditions. Only evaluations of fundamentally equivalent situations accurately compare driver behaviors and their varying effects on fuel efficiency.
Our technology performs these "apples-to-apples" assessments and provides automated feedback to drivers, empowering them to self-adjust their driving patterns. This process can often generate better results than supervisor coaching alone, as drivers typically prefer system-generated input.
Let Us Help You Implement These Strategies
Managers can apply these strategies as part of a companywide fuel management system to boost fleet fuel economy and improve efficiency and profitability. However, doing so correctly requires the right technology and a knowledgeable partner to guide you through implementation.
Contact us today to discover how our automation solutions can help you improve vehicle performance, routing, and fuel consumption across your entire operation.
---
Share this article:



---

Steven Pifko, VP System Engineering
Steven currently serves as a Vice President of System Engineering at Tourmaline Labs™. Possessing more than 10 years of experience in systems engineering, he oversees the design and implementation of sensing algorithms and control systems, product reliability, and data analysis.