Three Ways to Reduce Vehicle Fleet Greenhouse Gas Emissions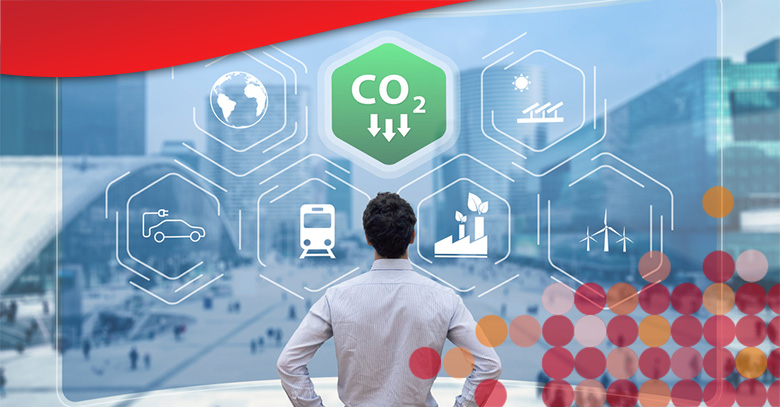 According to the IEA, carbon dioxide (CO2) emissions from heavy-duty vehicles have increased by 2.2% per year on average since 2000, with trucks accounting for more than 80% of this increase. Further, FreightWaves data illustrates that one commercial truck has the same carbon footprint as 14 people: approximately 223 tons of CO2 emissions per year.
Carbon emissions vary based on vehicle type (such as a passenger vehicle, light-duty, medium, or heavy-duty truck), fuel economy, and ton-miles per year. However, 223 tons of carbon dioxide is quite a large amount of CO2, especially when considering there are an estimated 30.1 million commercial vehicles on the road globally.
If you want to learn more about reducing your fleet's CO2 emissions, this article will explore fleet greenhouse gas emissions by fleet size and how a company can reduce its carbon footprint and save money on fuel.
Estimated Annual Fleet Carbon Emissions
Transportation GHG emissions account for approximately 27% of total US GHG emissions, making it the largest contributor to US GHG emissions. GHG emissions in transportation increased more than any other sector between 1990 and 2020.
While GHG emissions also account for other gasses such as methane (CH4), nitrous oxide (N2O), and hydrofluorocarbons (HFCs), we've provided a general estimate of annual emissions per commercial truck by fleet size below.
Estimated Annual Carbon Emissions By Fleet Size

Small Fleet (10 - 100 trucks)

2,230 to 22,300 metric tons of CO2

Medium Fleet (100 - 300 trucks)

22,300 to 66,900 metric tons of CO2

Large Fleet (2,000+ trucks)

446,000+ metric tons of CO2
Creative Commons Image, Some Rights Reserved, Flickr: Carbon Visuals
How to Reduce Vehicle Fleet Greenhouse Gas Emissions
There are three primary ways to reduce greenhouse gas emissions from transportation: modifying driving behavior and cargo transport methods, enhancing vehicle technology for greater efficiency, and transitioning to lower-carbon fuels.
AI-powered solutions assist fleet enterprises in implementing the first two options, which are readily available, by streamlining the transition to electric vehicles, coaching drivers on adopting safe and efficient driving practices, and eliminating fuel theft.
These approaches are discussed in further detail below.
1. Monitor Driving Behaviors Reduce GHG Emissions
Harsh braking, rapid acceleration, speeding, and excessive idling are all known to increase fuel consumption and GHG emissions. As a result, monitoring and addressing risky or inefficient driving behaviors among your drivers in real time will be critical for success.
While it can be difficult to impose eco-driving practices on medium to large-sized fleets, AI-powered technology is helping to scale training programs and provide continuous feedback that allows drivers to self-correct and immediately begin reducing their carbon footprint.
A company should also offer incentives for fuel-efficient driving in addition to using technology to help promote more sustainable driving practices.
2. Use Fuel-Efficient Vehicle Technologies
Using fuel-efficient technologies in vehicles is a reliable way to reduce GHG emissions in the transportation industry. Vehicle technologies such as hybrid and electric engines, regenerative braking, and streamlined design will significantly improve fuel efficiency and reduce emissions.
However, it's important to note that in addition to the use of next-gen vehicle technologies, an active AI-powered driver safety program will continue to be critical for supporting the adoption of electric vehicles and encouraging safer and more fuel-efficient driving behavior.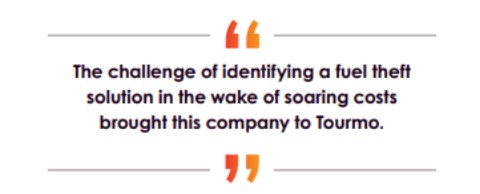 3. Identify and Address Fuel Irregularities
Improving fuel accountability and detecting irregularities will be critical in reducing GHG emissions. A company can foster transparency, incentivize responsible behavior, and help contribute to a greener future by taking steps to identify and resolve fuel irregularities.
However, identifying real-time fuel theft and discrepancies is difficult, even for a team of experienced data analysts. This is where the right technology will be invaluable, allowing businesses to overcome previous limitations and effectively eliminate fuel theft.
Tourmo's AI-Powered Sustainability Solutions
Tourmo's AI-powered mobile workforce solutions can help your company significantly reduce carbon emissions and fuel costs. Our solution provides stakeholders and managers with complete visibility while enabling exception-based management.
Tourmo's ability to collect and contextualize data from multiple sources enables companies to gain a highly-accurate and comprehensive understanding of fleet performance. At the same time, the system makes automated data-driven decisions to improve efficiency.
Tourmo will monitor fuel consumption, GHG emissions, and driver behavior 24/7 and take action in real-time to address irregularities. Further, our platform automatically reconciles fuel transactions and identifies signs of potential fuel theft.
While on the road, Tourmo communicates with drivers and provides feedback to help them adopt safer and more fuel-efficient driving practices. Additionally, its gamification and reward features encourage driver participation.
By leveraging Tourmo AI and its advanced data analysis and automated capabilities, your company can fully optimize fleet performance, reduce fuel costs and emissions, automate GHG reporting, and promote safer driving practices across an entire fleet.
A few example benefits of using the Tourmo Fuel & CO2 solution:
Up to 25% improved fuel efficiency
Up to 40% improved productivity
Lower and reduce fuel costs
Eliminate fuel theft
Tourmo AI: Supporting Net Zero Sustainability Initiatives
Tourmo's AI-powered platform can help your company improve fuel efficiency, reduce carbon emissions, and eliminate fuel theft. Our solutions enable businesses to develop and track actionable fuel efficiency programs while improving their fleet management capabilities.
Don't let high fuel costs and vehicle fleet greenhouse gas emissions hold your company back! Choose Tourmo's AI-powered platform for mobility workflow automation and start realizing the benefits of efficient and sustainable fleet operations today.
If you're interested in learning more about how Tourmo's AI-powered platform reduces vehicle fleet greenhouse gas emissions and can dramatically boost your mobile operations' productivity, safety, sustainability, and satisfaction of customers and employees, Contact us Today!
---
Share this article:



---

Jason Gress, Director of Product Management
As Director of Product Management at Tourmaline Labs, Jason Gress is responsible for guiding each step of our products' lifecycles by focusing on the products and their customers first and foremost. He works to ensure the products meet customers' current and future needs. Jason brings more than 15 years of experience in software Product Management and has launched more than 20 products within the telematics and telecommunications industries. Jason's professional passion is making technically complicated products easy to purchase, use, and support. He holds a Bachelor of Science in Management Science from Virginia Tech.